Austin Stacks end North Kerry Unbeaten
The Austin Stacks Under 12 panel ended the North Kerry season unbeaten last Wednesday night when the Rockettes defeated Ballymac Gold to win the Division 4 title on a cold and windy night in Connolly Park.
The most pleasing aspect of the campaign must be watching girls coming out of the U10 Academy and competing in organized competition for the first time and grasping the opportunity to show their skills and competitiveness.  On the night Ballymac improved through the game and are a better team than their league position shows but it was the black and ambers' night with some of the nine year olds grasping headlines.  Ashling Brown, Chloe O'Sullivan and Kara Kirby were outstanding and the smile on their faces displayed the joy they had in representing the Rock.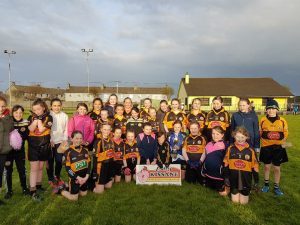 Rachel O'Mahoney and Katie Naughton provided the ammunition for the forwards with dominant displays in midfield but it would be unfair to pick out girls from an excellent team display.  The standard of Football the entire panel play has impressed all who have watched them this year so far and credit goes to their management team for the constant emphasis on playing ball during training.
The full panel retired for a very healthy meal in the clubhouse thanks to Denis and Annette after the trophy was presented by Sharon Roche, who reffed the game very intelligently, Anthony addressed the troops and encouraged the girls to keep up the performances through the upcoming County League.