The New North Kerry Ladies Crest
A competition was held in the Spring of 2012 asking affiliated club members, primary school girls to design a crest which illustrates the principles of our sport and organisation.  Andrew Morrissey of Radio Kerry kindly agreed to choose the winning entrant.  Huge numbers of submissions were sent in and they are all outlined in a dedicated gallery.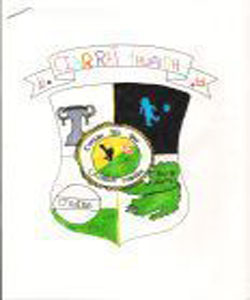 Kelly Bowler from the Dingle Daingean ui Chuis club was chosen as the winner and her submission was passed onto professional illustrator Christina Curtin junior who put a professional slant on the original submission and the resultant crest is one that North Kerry Ladies are proud to accept as the image that represents them.
The original design and the finished image incorporates a map of North Kerry and its significance to the County of Kerry, an image of a trophy which is the glory we all strive for, a football which represents the skill set required to play the game and an image of a player which is everyone from six to sixty who particpates within our clubs  while the core image of a lady participating represents the joy and fufillment of playing our game.
We are very grateful to Andrew and Christina for their professionalism and to Kelly for her imagination.  We would like to thank everyone for their submissions and it is our hope that all our girls wear the crest with dignity and honour in the coming years.